Effective Cyber Security
Mitigating the threat of Cyber attacks
Cyber Security
Cyber Security is important for all businesses, whether you supply car parts, run a charity, provide financial services or provide medical services.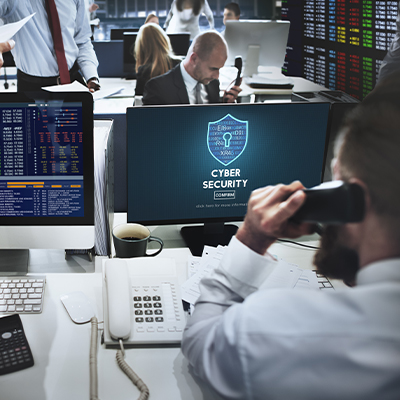 If your organization doesn't protect itself, your organization could be more vulnerable to the daily threats of:
Ransomware: Where an attacker encrypts your organization's folders and files, and attempts to extort your organization for access to the files and folders.
Exploits: An attacker takes advantage of vulnerabilities in any of your applications and devices, infects and gains access to your organization's wider environment.
Supply chain attacks: An attacker gets access to your organization's source codes, software build processes, and uses your applications to attack your customers and their devices.
Security risks and threats could negatively affect your organization, and in some cases, severely impact your organization financially and reputationally. There are two main reasons for reviewing and investing in cyber security:
For peace of mind
Increasingly recommended or required by compliance.
How frustrating is it when you don't know if you need to call the telecoms company or the IT company? We look after both to keep things simple, and we make sure you're not billed twice for the same thing.
Cyber Essentials
Cyber Essentials Plus
Vulnerability Scans
Penetration tests
Encrypted email
Antivirus
Malware Protection
Identification of Network Vulnerabilities
Up-to-date Software and Patching
Cyber Essentials & Cyber Essentials Plus FreshStance works with customers, preparing them to pass the Cyber Essentials and Cyber Essentials requirements. By addressing cyber security first, our customers are able to pass assessments first time, with minimal time and effort from the customers own staff.
Vulnerability Scans & Penetration tests By assessing if an IT System is susceptible to a cyber-attack we are able to plan, repair and strengthen your organisation's infrastructure defences against such attacks. We arrange for the tests to be carried out by our specialists (obtaining discounts for you in the process), carrying out pre-scan reviews, which minimises the attack surface and secures your systems.
Encrypted Emails FreshStance partners with and recommends Zivver for email encryption and security. Their product is more cost-effective than its competitors and is all more secure as well as more feature rich. Zivver is easy for your team, easy for customers, suppliers or patients.
NHS Digital email using Office 365
If you want or need to handle NHS patient data you need to be compliant with NHS Digital email requirements. This can mean using entirely separate email addresses or Office 365 can be configured to meet the requirements. FreshStance can implement the hundreds of pages of requirements, pass the tests and complete the submissions to get you approved.
For more information about meeting the secure email standard see: https://digital.nhs.uk/services/nhsmail/the-secure-email-standard
Invisible & effective IT Support,
the perfect IT solution for your needs

Unreliable IT support that fails to respond to your pressing needs can lead to frustration at both your data and the productivity of your business being at risk.

With FreshStance IT Support, you can be working faster, smoother and cheaper, allowing you to focus your attention on expanding your business.
How it works
Talk to us
Have a consultation with one of our experts to find the right solution for you.
Get invisible & effective IT Support
We implement the perfect solution for your company and your needs
Live & work stress free
With our solutions, don't worry about it, we've got you.
See what our clients have to say about us
Elena Lewendon
17/02/2023
A fantastic company that has been of great help to the Apsley Paper Trust, which is a local heritage charity. Big thanks to Steve and the team for their professionalism, timeliness and honest advice.
We are delighted with the expertise, guidance and support provided by Freshstance IT.
Have been using them for years and so far, they are the best IT company I have worked with!
Steve and the team have been doing our IT support for a few years now. They are always helpful and have quick response times. Nothing is too much trouble for them
After a thorough tender process, HCF asked Steve and his team at FreshStance to deliver IT support & carry out additional projects to future proof its systems . The service has been extremely good: FreshStance is big enough to respond quickly to any issues and small enough to give a personal service. The IT changes HCF has made with FreshStance's expertise and guidance has enhanced its working environment and practices.
We've been with FreshStance for a while now and they have always been very responsive and are definitely a company you can trust.
Steve and team at FreshStance are great! They've been looking after us for years and supported us as we've grown.
FreshStance IT Support oversee our IT infrastructure and their service levels both on hardware and software have been excellent. They are very responsive and each team member is engaging and understands that the person on the other end of the phone needs urgent help. My team rely on being online and FreshStance IT are a robust Outsource provider and not least fun to work with.
Dave Woffinden
06/04/2022
Fantastic support with my email migration. Took away all the stress.
Steve and his team - George and Tom, have been catering for our IT needs for over 3 months now and we have found them to be helpful, responsive and very capable. We'd highly recommend them. Thanks guys!
Why choose FreshStance IT
Experience
20+ Years
Of Providing Expert IT Support
We have over 20 years experience supporting businesses from various industries and businesses of all sizes, from one-man bands and startups to international enterprises with hundreds of employees, franchisees and contractors.
Our team are some of the most qualified in the industry holding multiple qualifications from industry leaders such as Microsoft, Cisco, Dell, Epson and industry standards such as ITIL and Prince2.
We take the time to understand your business and industry so we can highlight the right IT solutions to give you a real competitive advantage. You can trust us to bring the experience and knowledge that will help deliver real value to your business' future.